BioVille is part of a bigger network:
Call for Partnerships – The EIC is looking for Partners within the European Innovation Ecosystem
To overview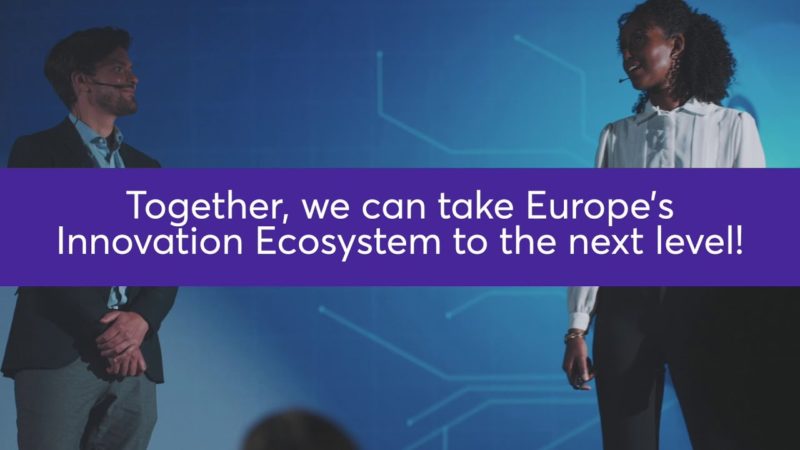 Are you an accelerator, incubator, a research and technology institution or any other organisation working within the European Innovation Ecosystem? The European Innovation Council is looking for partners like you! By providing services to EIC-funded innovators, you can boost your own visibility on a European level and gain access to the most promising projects, technologies, and companies on the EIC portfolio. Apply until June 22 to be one of the first partners embarking on this journey with the EIC!
Through the new EIC Ecosystem Partnerships and Co-Investment Support programme, the EIC will help its funded projects and companies to access the services and resources of a network of sector-specialized partners. The programme will also support innovators on their fundraising journey, by providing training and investor matchmaking.
In exchange for providing services to EIC-funded innovators (or EIC beneficiaries), the EIC Partners will gain access to a portfolio of over 6000 EIC-funded companies and 430 research teams across Europe! By becoming an EIC Partner, you will be joining a thriving community of quality stamped technologies across all fields and disruptive innovation areas and get the chance to build unique opportunities and services to boost the European Innovation Ecosystem together with the EIC. Our Partners will also take part in large networking and community-building events, in which they will be able to connect with EIC representatives and other partner organizations.
Intrigued? Find out who can become an EIC Partner!
Who can apply?
The EIC is looking for:
Private venture builders, accelerators and incubators.
Public regional or national innovation organizations or accelerators.
Technology parks, research infrastructures and other research and technology organizations.
Other service providers and corporate accelerators.
Applications are evaluated on a rolling basis. Submit yours until June 22 to be part of the first cohort of EIC Partners introduced to the EIC Community!
What kind of areas are we interested in?
In order to apply, you should preferably be active in the sectors and innovation areas aligned with the majority of the EIC's beneficiaries, such as:
New Deep-Tech and ICT
Health
Environment and Energy
Space and Defence
EIC deep technologies such as Artificial Intelligence and Robotics, Internet of Things (IoT), Big Data, Machine Learning, Quantum technologies and Computing, 3D technologies, Nanotech, Green Hydrogen, Computer vision, Autonomous and Sensor Tech are of particular interest for this call.
What's in it for you?
By joining the EIC Network and becoming a partner, you will:
Gain direct access to a community of quality-stamped and validated technologies from different countries and disruptive innovation areas.
Gain an EIC label to raise your organisation's visibility on a European level and nurture connections with the EIC.
Secure a seat as an EIC Ecosystem Community member and gain the benefits of being on the frontline as a participant in EU-funded programmes with a reputation as a facilitator in the European innovation ecosystems.
In partnership with the EIC, and through close collaborations, you will also have the opportunity to:
Pilot and promote your new services dedicated to EIC-funded projects, providing them with first-hand experiences and directly get customers' feedback for your initiatives.
Offer EIC innovators acceleration services, business opportunities, and accelerate the growth in partners' regions or networks.
Venture into deals with new, up-and-coming innovative start-ups and SMEs within the European deep tech innovation ecosystem.
How can you apply?
To apply for this call, head on over to the application form. Apply until June 22 to become one of the first 50 partners to be introduced to the EIC Community and take part in the first EIC Stakeholders event!
The first cut-off has been extended from May 31 to June 22.
You can clear any lingering doubts about this Call for Partnerships in the upcoming info session on the programme.
*Please note that attending the session does not imply that you will be selected for the Partnerships.
For specificities of the programme, please find the Terms of Engagement for EIC Partners here.
Need help?
For additional information, please refer to our helpdesk: Eicpartnerships-helpdesk@eic-bas.eu.
About the EIC Ecosystem Partnerships and Co-investment Support Programme
The EIC Ecosystem Partnerships and Co-Investment Support Programme will expand on the current Business Acceleration Services by taking on two of the greatest challenges for EIC innovators: accessing specialized sector-focused services and attracting private investors.
Through a series of partnerships with key actors, the EIC will help its beneficiaries access specialized, sector-focused resources, facilities, and expertise to address their individual needs. The programme will also focus on promoting co-investment along the EIC Fund, namely by supporting and facilitating interactions between beneficiaries and investors.
_____________________________________________________________________
DISCLAIMER: This information is provided in the interest of knowledge sharing and should not be interpreted as the official view of the European Commission, or any other organisation.